More and more people are affected by allergies. About 5% of the population suffer from food allergy, which are the most common food allergies: eggs, fish, crustaceans, milk, celery, sesame seeds, sulphur dioxide/sulphites, peanuts, gluten-containing cereals, lupine, nuts, mustard, Soybeans and molluscs. If you have various food allergies, please inform our staff. This allows us to create an individual allergen-free dish for you. Then nothing stands in your way for a nice evening.
Menü de Lux - Golfe du Tonkin et Cochinchine
Bánh Bèo kiểu Nam bộ
thin Cochinchine-style klebreis taler, served with crispy crab meat and sweet and sour sauce
****
Cá Vược "Melkong delta Art"
Loup de mer rolled in salt crust with rice paper & fresh herbs at the table
****
Canh chua "Tây Nam bộ"
Western Cochinchine-style bouilabes, slightly sweet-sour-sharp with pineapple, okra and soy sprouts
****
Cá om dưa and Heo quay
braised Lotte and crispy lacquered Iberico pork with mousseline by sweet kart open
****
Thịt bò thăn rim qủa sấu
diced Irish rump steak with Tropica fruit (Dracontomelon) in clay pot, served
with pakchoi vegetables, cooked rice and pickled salad cucumbers with sesame seeds
****
Ăn Tráng miệng / assiette desse
rtIng-Parfait/ Mousse of Matcha Tea and Mango/ Baked Klebreisballs
****
Trà xanh "Thái Nguyen" with Chè lam
amgreen tea served with klebreis flan
Price per person. 72.00€
Due to the freshness of our products for the exclisive menu outs
ide our a la carte, we offer this menu only BEFORE ORDERING (min. 1 week)
IndoChine Roll (Cold)
Three different rolls: beef, pork crab and salmon, served with three homemade sauces (sweet sour/spicy/nutty)
12,90€
Salade ,you chef
"from fresh green papaya, carrots, soy sprouts, crabs, pulpo and indo herbs in homemade sweet sour sauce
14,90€
IndoChine hors- d'oeuvre for 2 people
Salad of green papaya with pulp, marinated salmon with ginger/sesame, tuna with white powder from the glue ice cream, baked shrimp in tempura and frog leg skewer in the wild betel leaf
25,90€
Cochichine spring rolls "Nem Sài Gòn" (warm)
served in crispy rice paper with homemade indo fish sauce, with leaf salad and mint (warm)
11,90€
Snail pot "gratinée"
Vineyard snails with old calvados flambifned, refined with truffle butter, parsley, cream and parmesan cheese
13,90€
Veal bries a la Indochine
in fine butter fried, with Madeira sauce, served with apple beignet, fries mousseline of sweet potatoes and lemon caper butter
16,90€
Frog legs rolled in IndoChine
type-roasted frog legs in wild betel leaf, soup of frog legs with pinot blanc and frog legs in homemade saté of chilli shrimp paste
17,90€
Fish cream soup a la maison
Creme soup of light fish refined with saffron & pernod, served with rouille and garlic bread
14,90€
Small "Pot au feu" rice ribbon noodles
with wafer-thin slices of Charolais beef and soybeans poured with hot broth and fresh IndoChine herbs
11,90€
Small Bún Bò Huế "Speciality from the Imperial City of Huế" (sharp)
thin rice noodles with pork, beef, lemongrass and sojake imme poured with hot broth, served with spicy homemade Indochine chili prawn paste and fresh IndoChine herbs
11,90€
A classic rice noodle soup dish (Indochine Pot au feu / "Phở" ) with the greatest colonialist influences and a secret southeast aroma. We only serve them here as a small dish for starters, but if you would like a large portion, please contact our service staff.
marinated salmon and sesame
12,50€
Tuna in white powder of adhesive rice
14,90€
Vegans with tofu/avocado/mango
11,90€
Pork and crab
10,90€
marinated beef strips and sesame
13,90€
Tofu and omelette strips
11,90€
all IndoChine rolls contain rice noodles, lettuce, leeks, mint and coriander along with two IndoChine sauces (sweet sour/nutty)
Tagliatelle "fine de la mer"
thin ribbon noodles with scallops, precious fish, shrimp and vegetables brénoise in fine saffron sauce and planed hard chees
e21,90€
Phở Chay xào " Vegetarians"
fried rice ribbon noodles with tofu and wok vegetables in light spicy soy sauce and sesame oil with peanuts and roasted onions
17,90€
"Noble fish pan a la Indochine "spicy/very sharp"
strips of noble fish, scampi and scallops with wok vegetables, curry, lemongrass and lime leaves on coconut milk sauce, served with scent rice
27,90€
"Tôm Lụi kiểu IndoChine"
Three giant shrimp skewers (with wild leaf, green bacon and shrimp chili paste) served with indo-herb salad/pickled cucumbers with sesame/thin rice noodles and two kinds of IndoChine sauces
28,90€
"Cochichine-style Cochichine-style"
Caramelized Lotte medallions & giant shrimp in clay pot, served with root vegetables/pickled salad cucumber with sesame/reistimbale
34,90€
Due to the freshness of the fish, we reserve the right to change the daily.
Thịt bò thăn chuột kiểu Đông Dương quán
médaillon of Angus beef with baked veal bries in rice flakes, onion fig confit on port wine sauce, served with péte a choux filled with fine ragout of fillet tips, beef skewer in wild betelleaf, with grilled aubergine and toured garden vegetables and fries Mousseline
35,90€
Barbary duck breast on wok
vegetables with tamabo sauce, served with scent of rice, roasted onions and roasted peanuts
28,90€
"Boeuf sauvage dans la feuille de béte"Marinated
charolais beef skewers rolled and grilled in wild leaf, served with indo-herb salad, thin rice noodles and two kinds of IndoChine sauces
29,90€
Thit Nai nau kieu Indochine
Dice & marinated deer top bowl with Tropica fruit (Dracontomelon) and gallant troughs in clay pot, served with root vegetables, boiled rice and sesame cucumbers
34,90€
Cochichine Ức Gà Ngô với Tôm sú Càri (sharp)
Pan strips of corn-poularden breast and king prawns with wok vegetables in spicy curry-coconut milk sauce, served with scent of rice and roasted onions
26,90€
Menu de coloni
Ốc sên nướng à la MaisonỐc sên nướng à la Maison Snail pot au gratinée
***
Deer medallions & US beef skewer Deer medallions with baked sweetbread and beef skewer in wild leaves
***
Profiteroles `a la Maison small cream puffs filled with walnut ice cream and egg liqueur
€49.50
Exquisite menu for two/Délicieux dîner pour deux
Fish cream soup à la Maison with rouille and breadcrôutons
House cocktail with amuse bouche
***
IndoChine starter plate for 2 persons
***
Fish cream soup à la Maison with rouille and breadcrôutons
***
Sorbet with Gewürztraminer
***
Giant shrimps IndoChine style with wild betel leaf, bacon and shrimps chili paste
***
Duo of beef fillet and deer in wild leaves Indochine style with french fries mousseline and tourned vegetables
A bottle of 0,75l Blanc de Noir (dry) or St. Laurentaise is served with the main course.
***
Dessert plates in the style of the house will surprise you
If you would like to exchange wine, please ask our service representative.
€155.00
Menu Maison
Bún Bò Huế (Hot) "Speciality from the imperial city Huế"
***
Ức Vịt chiên (Very hot) Canard thailandais sauce with wok vegetables and rice
***
Kem Cốm à la Indochine Baked ice cream made of green rice flakes on marinated pineapple
€39.90
Gugelhupf Glacé "Tràng Tiền Style"
fine ice cream cream from mung beans with Gewürztramine
r10,90€
Three kinds of cream 
brélée with ragout of raspberry, pear and mango caramelized with brown sugar
9,90€
Kem Cốm a la Indochine
Baked ice cream cream scrum sofple from green flakes of glue on marinated pineappl
e10,90€
Profiteroles a la Maisond
rei small windbags filled with walnut ice cream, with egg liqueur and cream
10,90€
Ginger -Parfait "Indo-style
" on mango salad and fruitculi
10,90€
Dessert plate according to the style of the house – 2
people let you surprise yoursel
f23,90€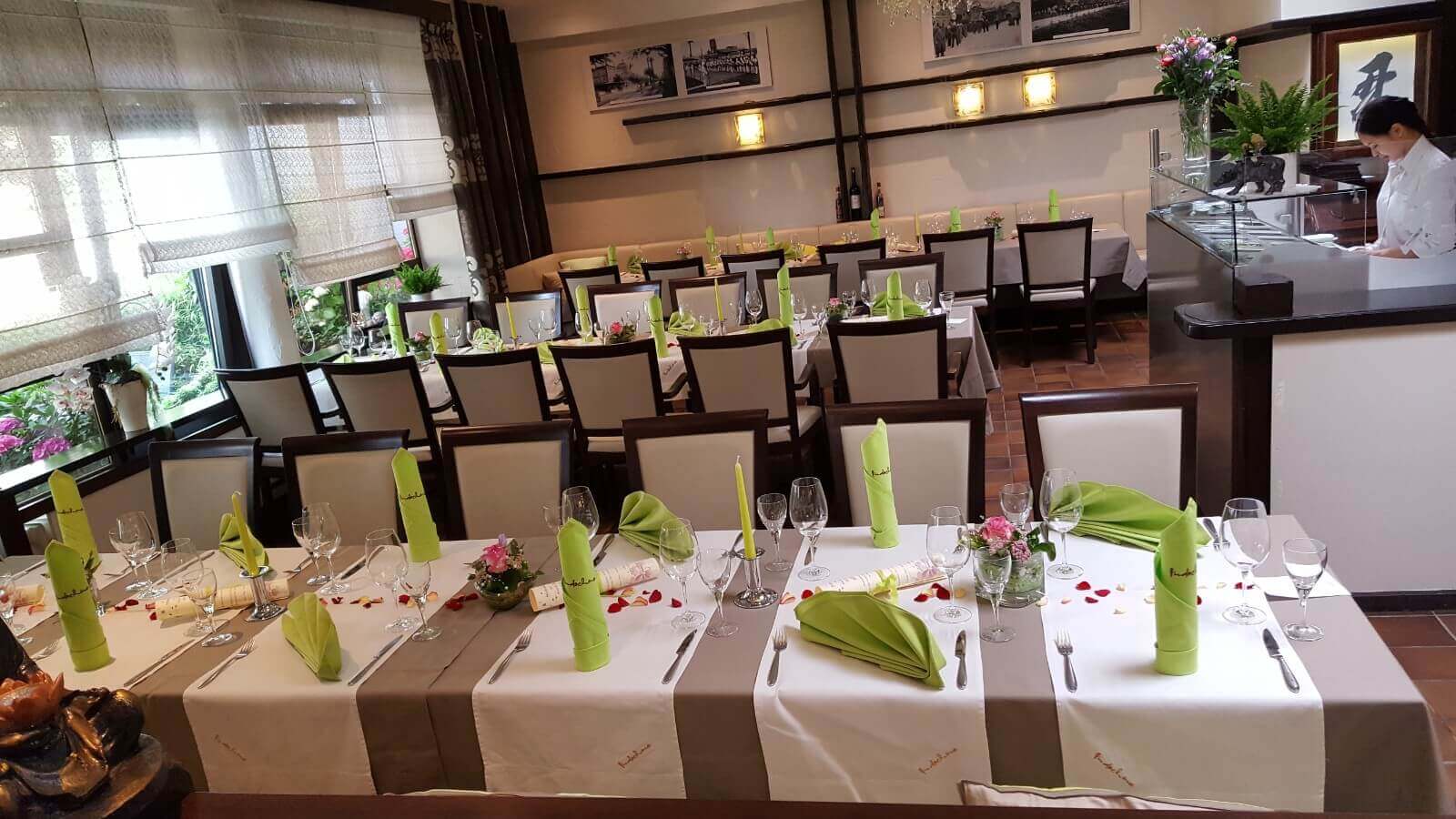 Your festive occasion
Are you planning a pivate celebration like a birthday or a wedding? Or are you planning a company celebration with your employees or customers, perhaps an anniversary? If you are looking for the extraordinary at a high level, put your next celebration under the motto 'INDOCHINA'!
We provide everything you need, here we have more information for you. Contact us – we will make your celebration an unforgettable experience!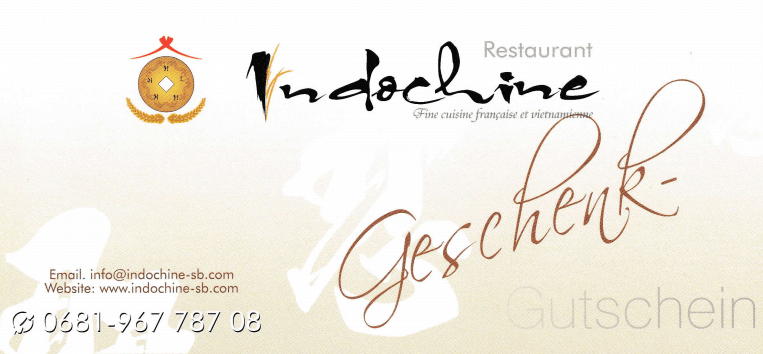 Vouchers
You want to surprise a loved one with something unusual – or you are looking for a special gift for a business partner or an employee.
How about a gift voucher for a special evening at INDOCHINE?
Contact us – we will be happy to advise you or order a gift voucher here.