More and more people are affected by allergies. About 5% of the population suffers from food allergy, among the most common food allergies are: eggs, fish, crustaceans, milk, celery, sesame seeds, sulfur dioxide/sulphites, peanuts, gluten-containing cereals, lupine, nuts, mustard, soybeans and molluscs. If you have various food allergies, please inform our staff. This allows us to create an individual allergen-free dish for you. Then nothing stands in your way for a nice evening.
Täglich von Montag bis Freitag, ab 12:00 Uhr bis 14:30 Uhr
Sie können unter folgender Speisekarte als Einzelgericht oder Business Lunch bestellen.                  
Business Lunch 2. Gänge:32,50 € oder  3.Gänge: 38,90 €
Kalt – warmen Vorspeisen
11 IndoChine Rolle (Kalt)
drei verschiedene Rollen: Rind, Thunfisch und Lachs, serviert mit zwei hausgemachten Soßen (Süßsauer/Nussig)
14,90€
12 Salade ,,du Chef "
aus frischer grüner Papaya, Karotten, Sojasprossen, Krabben, Pulpo und Indo-Kräutern in hausgemachter Süßsauersoße
14,90€
18 Kleine Phở   bò Sàigòn "Pot au feu nach Sàigòn Art"
Reisbandnudeln mit hauch dünnen Scheiben vom Charolais Rind und Sojakeimen mit heißer Brühe übergossen und dazu frischen IndoChine Kräutern
14,90€
Hauptspeisen
 33 Graved Lach & Scampi in Tontopf a la Indochine
Würfeln von Graved Lach & Scampi in Tontopf mit Gemüse in Tamarinde Sauce, serviert mit Duft Reis
25,90€   
34 Weiblichen Barbarie Entenbrust mit rotem Curry (sehr Scharf)
Weiblichen Barbarie Entenbrust auf Wok Gemüse mit rotem Kokosmilchcurry Sauce, serviert mit Duft Reis, Röstzwiebeln und gerösteten Erdnüssen
25,90€
36 Mais Poulardenbrust "Marengo"
Mais Poularden Brust in Butter gebraten, serviert mit Marengo Sauce und Kürbisragout dazu Reiskroketten
25,90€
Dessert
42. Ingwer -Parfait "Indo-style"
auf Mango Salat und fruchtculi von Himbeeren
9,90€
46. Warmer Zimtpflaumen
In Portwein-Buttersauce, serviert mit Vanilleeis
9,90€
Menü de Lux - Golfe du Tonkin et Cochinchine mit Weinbegleitung
Amuse bouche
A greeting from the kitchen
1.Bánh Bèo kiểu Nam bộ
thin sticky porridge thalers in the cochinchine style
****
2. "Bún Cá -Tonkin" rice noodle soup
by North Vietnamese style
****
3. Scallops" kiểu Đông dương Quán"
according to the style of the house with oyster sauce
****
4 . Bánh Ngọt "du Chef"
braised veal bries/ packchoi/ sweet carts
****
5 . Bò Mỹ rim quả sấu
diced US beef with galanga root and tropical fruit in clay pot
****
6. Đĩa Tráng miệng / assiette à dessert
Let yourself be surprised
****
7. Trà xanh "Thai Nguyen"
green tea served with sticky porridge flan
Menu Complete pers. 110,00€
3/4 menu (1,3,4,5,6) per pers. 90,00€
1/2 menu (2,4,5,6) per pers. 70,00€
10 Bánh Bèo kiểu Nam bộ
thin sticky porridge taler cochine style with mung beans, ruốc tôm, sweet and sour salad of carrot & kohlrabi
£12.90
11 IndoChine Roll (Cold)
three different rolls: beef, tuna and salmon, served with two homemade sauces (sweet sour/nutty)
£14.90
12 Salade ,'you boss"
from fresh green papaya, carrots, bean sprouts, crabs, pulpo and Indo herbs in homemade sweet sourso
£14.90
13 IndoChine hors- d ́oeuvre for 2 persons
Salad of green papaya with pulpo, marinated salmon with ginger/sesame, tuna with white powder from glue rice, baked shrimp in tempura and frog leg skewer in willd betelblatt
€26.90
 14 Cochichine Spring Rolls,,Nem Saigòn"(Warm)
served in crispy rice paper with homemade Indo fish sauce, with leaf salad and mint (warm)
€10.90
15."Bún Cá Tonkin" rice noodle soup
In the North Vietnamese style, spicy sweet-sour fish soup with lotte slices, shrimp, vegetables and herbs
£14.90
16 IndoChine-style frog legs
fried frog legs rolled in wild betel leaf, soup of frog legs with Pinot Blanc and frog legs in homemade chili shrimp
17,50€
17 "Bánh Ngọt du Chef"
braised veal bries with ginger, star anise / pak choi / mousseline of sweet potato and spring onion oil                                                  
19,50€
Small Phở bò Sàigòn "Pot au feu in Sàigòn style"
Rice ribbon noodles with thin slices of Charolais beef and soy seeds doused with hot broth and fresh IndoChine herbs
£14.90
Small Bún Bò Huế "Specialty from the Imperial City of Huế" (spicy)
Thin rice noodles doused with pork, beef, lemongrass and soy seeds with hot broth, served with spicy homemade Indochine chili shripe paste and fresh IndoChine herbs
£14.90
A classic rice noodle soup dish (Indochine Pot au feu / "Ph" ) with the greatest colonialist influences and a secret southeast aroma. We only serve them here as a small dish for starters, but if you would like a large portion, please contact our service staff.
marinated salmon and sesame
12,50€
Tuna in white powder of klebsreis
£14.90
Vegans with tofu/avocado/mango
11,90€
Pork and crabs
€10.90
marinated beef strips and sesame seeds
13,90€
Tofu and omelette strips
11,90€
all IndoChine rolls contain rice noodles, lettuce, leeks, mint and coriander along with two IndoChine sauces (sweet sour/nutty)
Tagliatelle "fine de la mer"
thin ribbon noodles with scallops, noble fish, shrimp and vegetables brûnoise in fine saffron sauce and sliced hard cheese
22,90€
Phở Chay xào "Vegetarians"
Fried rice ribbon noodles with tofu and wok vegetables in light spicy soy sauce and sesame oil with peanuts and roasted onions
18,90€
22 "Noble fish pan à la Indochine" (Very spicy)
Strips of noble fish, scampi and scallops with wok vegetables, curry, lemongrass and lime leaves on coconut milk sauce, served with scented rice
29,90€ 
23 "C ơm Cháy according to IndoChine style"
Sea bass fillet on the skin crispy fried, served with apples, onions, lemon caper butter, shrimp skewers and scallop with leek onion aroma, served with fries mousseline of sweet potatoes and crispy sticky taler
33,90€
24 Cá kho tộ cochichine style
Caramelized Lotte medallions & giant prawns in clay pot with caramelized pepper sauce, served with root vegetables/pickled cucumbers with sesame/reistimbale
34,90€
Due to the freshness of the fish, we reserve the right to change daily*
25 Cochichine Ức Gà ngô với Tôm sú và Cà ri (Sharp)
Strips of marinated corn poulard breast and king prawns with wok vegetables in spicy curry, lime leaves, peanuts and coconut milk sauce, served with fragrant rice & roasted onions
€26.90
26 Ức Vịt nấu sốt me kiểu Pháp (Spicy)
Female barbary duck breast on wok vegetables with tamarind sauce, served with scented rice, roasted onions and roasted peanuts
28,90€
27 Thịt bò thăn chuột kiểu Đông Dương quán
Médaillon from Angus beef with baked veal bris in rice flakes, onion fig confit on port wine sauce, beef skewer of flank steak, served with grilled eggplant and toured garden vegetables and fries mousseline
€35.90           
28 Bò Mỹ nấu kiểu Indochine
Diced & marinated US beef with tropical fruit (dracontomelon) and galanth root in clay pot, served with root vegetables, boiled rice and sesame cucumbers
34,90€
Exquisite menu for two/Délicieux dîner pour deux
the menu will be a bottle of 0.75l Pinot Blanc (dry)
or Côtes du Rhön or the Rose' of Cantzheim.
       IndoChine appetizer plate
    for 2 persons
   ***
   Fish cream soup à la maison
with rouille and brotcrôutons
***
Sorbet
with Gewürztraminer
***
Veal brisus à la Indochine
Baked in rice flakes, with Madeira sauce, served with apples, fries mousseline of sweet potatoes and lemon-caper butter
***
Glacierte female Barbarie duck breast & pike of flankstek
   With vegetable rice on two sauces
***
   Dessert plate by type of house
 let yourself be surprised
175,-€
 if you would like to exchange wine, please ask our
Service force to find a suitable wine for their taste at the same price or extra charge possible.
41   Three kinds of crème brûlée
caramelized with ragout of raspberry, pear and mang with brown sugar
10,50€
42 ginger parfait "Indo-style"
on mango salad and fruitculi of raspberries
10,50€
43 Kem Cốm à la Indochine
Ice cream with caramelized green glutinous flakes on marinated pineapple and lemon sorbet
12,50€
44 dessert plates by type of house
let them surprise you
25,90€ for 2 pers.
In addition to a wide selection of soft and alcoholic beverages, we also offer fine wines from Germany, France, Italy and Spain. Ask in the restaurant for our current drinks and wine list.
Best wines from the region
We recommend the wines from the region below,
as these fit perfectly with our kitchen.
1.PETGEN DAHM OBERMOSEL WINE FROM SAARLAND
2.WOLGANG MERTES RUWER
3.CANTZHEIM SAAR
4.WEBER BROTHER SAAR
5.SAARSTEIN CASTLE SAAR
6.PETER LAUER SAAR
7.VAN VOLXEM SAAR
8.WEINHOF HERRENBERG SAAR
French and Italian wines
From the
Alsace, Loire, Côtes du Rhône, Beaujolais, Piedmont, Tuscany, Apulia, Veneto, Lombardy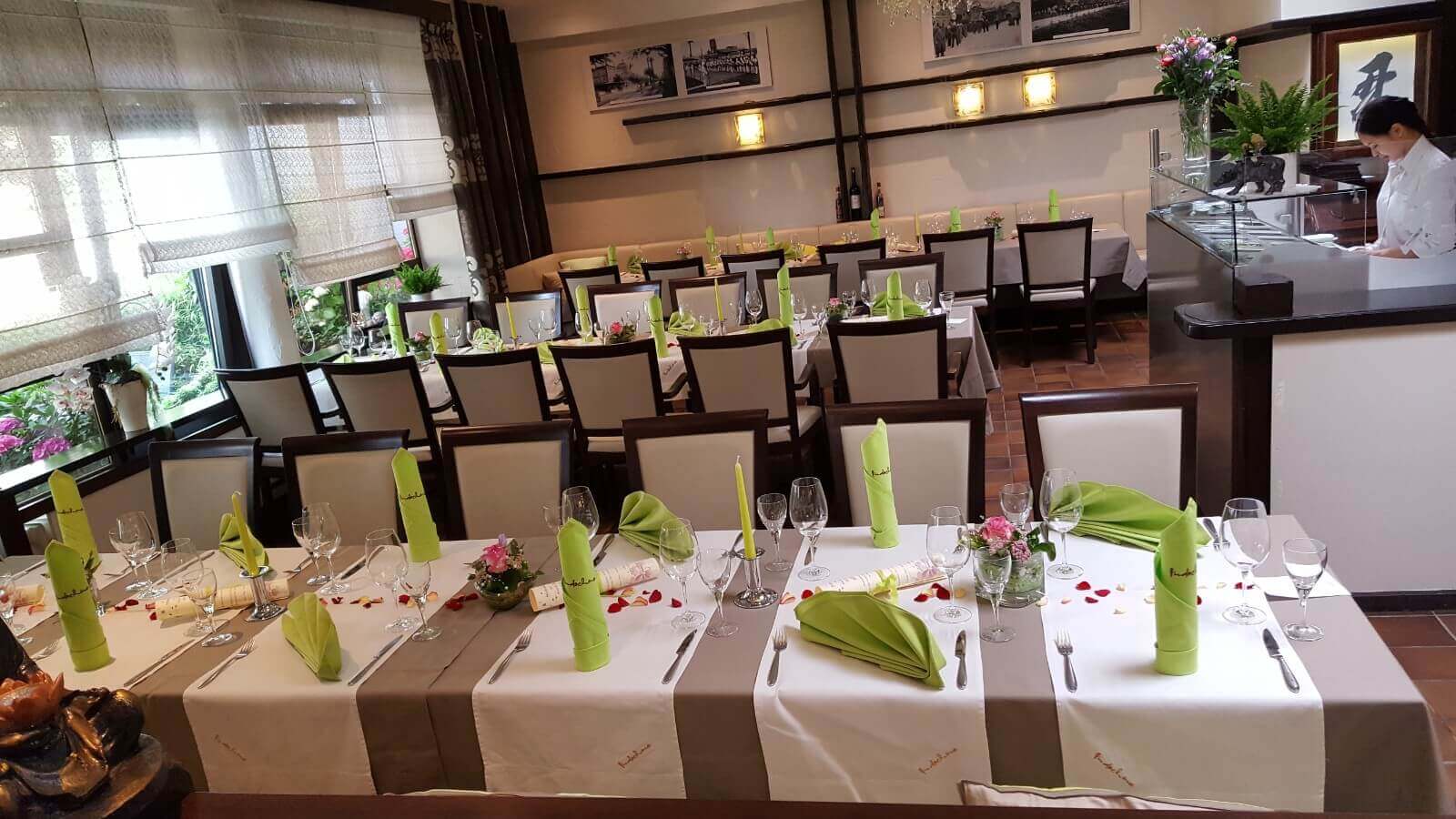 Your festive occasion
Are you planning a pivate celebration like a birthday or a wedding? Or are you planning a company celebration with your employees or customers, perhaps an anniversary? If you are looking for the extraordinary at a high level, put your next celebration under the motto 'INDOCHINA'!
We deliver everything you need, here we have more information for you. Speak Join us – we will make your party an unforgettable experience!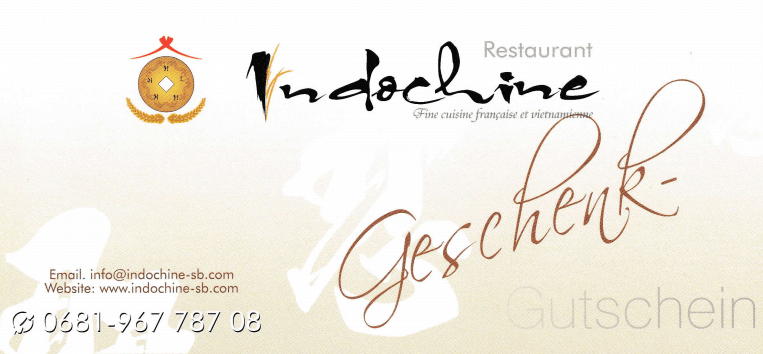 Vouchers
You want to surprise a loved one with something unusual – or you are looking for a special gift for a business partner or an employee.
How about a gift voucher for a special evening at INDOCHINE?
Contact us – we will be happy to advise you, or order a gift voucherdirectly here.